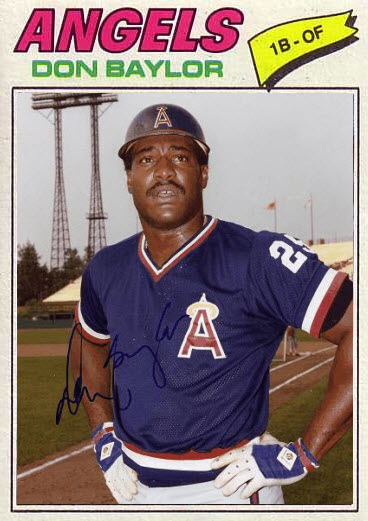 "Don Baylor was a hustling player who ran the bases aggressively and stood fearlessly close to home plate as if he were daring the pitcher to hit him."
~Society for American Baseball Research
As last nite I was Reminiscing with Brett a former minor league ball player Late Don Baylor called brief stint with Twins "the best time I ever had in the game" yeti it 'twas margaritas Rio Grande Mexican! Cool Change!! Lonesome Loser!!! 
As our story flows KOOL 105 safety meeting prior to Wonder Woman shy of six o'clock Face Value i learned it was HOLY SHIT Duran Duran Appreciation Day Hungry Like The Wolf Rio! Rio!! The Reflex!!!
Where It's At Shure shared Tedeschi Trucks Band's: Shure Artist Endorser Tedeschi Trucks Band has been using an MV88 iOS stereo mic to record their pre-show rehearsals. Here, they warm-up with Bob Dylan[s'] Down Along The Cove before hitting the stage at Red Rocks Park and Amphitheatre! Is There Something I Should Know? Want You Back!! Dancing On The Sun!!!
A True Hero. Clayton Ogden.
SCPD honors the life of fallen Santa Cruz Fire Department Firefighter and Paramedic Clayton Ogden. This morning's procession started in Santa Cruz and heads to Merced for the memorial service. #ThankYou!!!
Kadampa Meditation Center Colorado shared their event: Anyone can learn to meditate and experience great peace of mind and relaxation. Normally, we turn to many things for happiness, but how long do these feelings actually last? If we know how to meditate, we can always tap into the potential for deep happiness and bliss because its source is within our own minds.
Sure to be a beautiful evening at the Wash Park Boathouse. Includes a guided meditation, instruction and discussion.
Kadam Morten is both the Eastern US National Spiritual Director of the New Kadampa Tradition and Resident Teacher of Kadampa Meditation Center in New York City. We are delighted to welcome him to Colorado and eager for him to share his years of meditation experience with us. Kadam Morten is greatly admired as a meditation teacher and is especially known for his clarity, humor and practical presentation of Buddha's teachings. AUG 22 Free Event – How to Meditate Tue 7 PM! The Best Things In Life Are Free!! Fantastic Voyage!!! 
"To infinity…and beyond!"
St. Jude Children's Research Hospital: At St. Jude, families never receive a bill for treatment, travel, housing or food – because all they should worry about is helping their child live. Drew Barrymore says, "They don't charge families, and they take all the burdens and worry of daily life off the table for them."
IN RE Robin Williams:
WoW… A reason why I wanted to live in Colorado as a child was because of Mork & Mindy!!! We are able to name countless performances by Robin Williams from the Richard Prior Show and Laugh-In through Happy Days, Popeye (1980), Dead Poets Society (1989), Hook (1991), Mrs. Doubtfire (1993), Jumanji (1995), The Birdcage (1996), Jack (1996), Good Will Hunting (1997) and on and on…
Nanu-Nanu!!!
Comments
IN RE Outlaw Unfrozen Cave Man Lawyer Billy Bob Bramscher, esq.:
Oh… MUCH to do about NOTHING!!!
~Gonzo journalist Billy bob Bramscher
Keyrock, the Unfrozen Cave Man Lawyer returns to SNL as Phil Hartman hosts
Comments
I would like to welcome to meYe team in re RIVER ROCK Sergeant Gary Ayers Denver Police Department Internal Affairs Bureau | City and County of Denver!!! It was a pleasure to receive his call this afternoon at lunch with my maternal uncle today as Sergeant Gary Ayers shared true compassion encouraging me beyond the email he authored and sent last week…
Also, after I turned in the motion(s) I did discover an email from the Public Defender's and a copy of the motion she filed in re MISTRIAL. I am pleased to admit, after review, mine is more comprehensive, real and true!!!
Comments
Aloha…
There is only one place for me to compose this motion(s) due today by 4:30pm M/S/T, Lindsey-Flanigan Courthouse, Denver, Colorado, The United States Of America, and that is LONETREE!!!
I stopped by the Microsoft Store and the TECH confirmed I have a malware virus that is NOT allowing me to view the pages on http://www.lexisnexis.com/ YET I have overcome this obstacle. Hmmm… the only page I cannot get to!
00:00 1. Opening Theme 00:32 2. Theme From Jurassic Park 03:58 3. Incident At Isla Nublar 09:18 4. Journey To The Island 18:09 5. The Raptor Attack 20:58 6. …
Comments
I did have copies of paperwork which would have proven Detective Infranca, the Westminster Court, the DA and the Westminster Police lied!!!
From jail I requested of many things for my mom to get this paperwork and I got some bullshit how it was moved from Oklahoma to Minnesota and in 13 F'n months my MOM would get this court paper work!!!
Why would a mother hurt her SUN soo much she wanted him guilty instead of truth shine???
I love my mother yet she hath hated, betrayed and buried her only begotten Son…
~BbB~
I am Billy bob Bramscher and I am an Avenger… Super-Hero Shit Yo!!!
Comments
I did have an awesome phone call with the FBI a few days ago… most of the time you do not get a name… It's just "Duty Agent".
So kind she was… The kindest I had ever spoke with!!!
I love my country and our people… I stand for truth, justice and old-fashioned belief everyone deserves a fair shake (hand-shake).
I wanna make movies if you let me??? I exist only for you!!!
~BbB~
During my trial I was not allowed to speak with any witness prior to their taking the stand.
When the prosecutor was not going to have Loretta Martinez testify I just knew I had to call her on behalf of the defense…
After 13 months in county jail and the fact that Detective Richard Infranca wrote in two police reports that he did meet with Loretta Martinez and she was informed of a "threat" I was amazed with this women, who was now retired…
I F'n cried when Loretta Martinez said under oath that she was never interviewed by Infranca nor had she heard of any "threat".
That was a magic movie moment!!!
I just cannot understand why my family does not support me… Why even with the truth out I am still a piece of shit to them…
I suffer from PTSD from this…
I am so done with being alone… I just want to be loved yet seemingly I must transition for the joy I do seek…
Every morning I feel disappoint that I woke-up alone again…
~BbB~
Tomorrow…
My sweet ride Zooey Claire Deschanel turns 150k
I promise service with smile!!!
Shit man… For tha 80k she has been mine she been me house, office and wicked about o tha road!!!
Tires Plus/Firestone and Mitsubishi!!!
My HOUSE Yo…
~BbB~
I am so blessed…
Thank you WORLD!!!
~BbB~
Comments
With purpose I may write a poem Snow Moon:
Heavy begotten;
Dark syllables…
red music simple plain,
She cries outside widowpain:
Feeling it know relief;
Ending is this beginning!!!
Share your fears…
She hath mine,
this pain;
Karma shame 
🙂
~BbB~
Comments
"Bella & Calliope DoGood"
~BbB~
Comments
I had been writing at Starbucks… I live in me car… Free Internet; I may not afford a drink, occasionaly-
Wow she was refined…
Dressed so defined…
I did engage her
she said "Hi!!!"
Superhero or not…
Falling into;
love upon he
If that's all I got!!!
~BbB~
I am really great poet…
Equating this with nerd, dork mixed with emotions!!!
I have a huge SUPER HUGE Crush on Taylor Swift, Joss Stone and Dakota Fanning… Drew and Natalie married!!!
My name Billy bob Bramscher and if I am write you posses more confidence in me than eYe do…
I came from CRAZY!!!
Now I'm yours…
~BbB~
I may bee American Irish Mexican… YummY Again… YummY NOW!!!
"California" Sunset in my mind… Take me too where I want to be… Come my friends and share with me my wine… Drink it from tha vine… Hangin with Trader Joe & Charles Shaw!!!
Comments
Gong Li Quinn… "I never 'need' prayers for I am WIL and I created them at some beginning some other life…" ~BbB~
Comments
That's all for August 11.
Here are some more memories that we hope you like.
#ThankYou